Popular Tours by Daily tours Egypt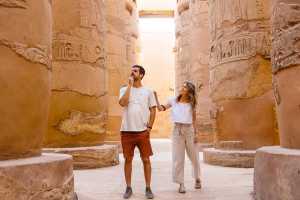 Private day tour to Luxor from Hurghada by private car with your own guide it allows you to see the real Lu...
Private snorkeling boat trip in Hurghada to dolphin house Private Boat Trip in Hurghada - Just for you and ...
Cairo day tour from Hurghada Red sea by Private Car .Visit the Giza Pyramids,The Sphinx and the Egyptian Mu...
Fly to Luxor from Cairo by plane for the day to see Luxor's best sites in one day. Visit Karnak Temples and...
Experience a memorable day tour to Dendera temple s and Abydos temples from Hurghada. You will visit the te...
Cairo and Luxor 2 days tour  from Hurghada is an amazing cultural trip you ever been done. As you will comb...
Enjoy day snorkeling trip from Hurghada to Abu Dabab beach. Abu Dabbab is one of the most famous dive sites...
Scuba Diving Trip in Hurghada. It is the time to explore the unforgettable underwater world of the Red Sea ...
Day Snorkeling trip to Sharm el Lulli and wadi El Qulaan. Explore Sharm El Luli and the lagoon of El Qulaan...
 Discover the Red Sea resort of Hurghada by city tour Hurghada. Explore Mosque, Church and Harbor. Experien...
Hurghada City Tour from El Gouna. Explore the Red Sea resort of Hurghada on a private sightseeing tour to d...
City tour Hurghada from Makadi Bay. If you want to get to know Hurghada, we recommend Hurghada city tour. E...
Enjoy full day  sharm el naga snorkeling tour to observe the spectacular coral reefs and the crystal-clear ...
Relax and enjoy unforgettable snorkeling full day tour at Giftun island.You will spend a fantastic day out ...
Enjoy a magical full-day snorkeling tour from Hurghada to Paradise Island and relax on the beach in the sun...
Super safari Hurghada is the best choice, if you want to explore the genuine feeling of an adventure. Enjoy...
Sunrise quad bike tour in Hurghada is an exciting tour which is one of the amazing things to do in Hurghada...
Discover Egypt's White Desert and Bahariya Oasis in 2 days trip from Cairo. Enjoy one night in camping in t...